In memory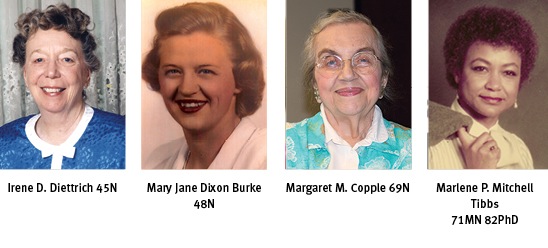 1940s
Irene D. Diettrich 45N of Houston Texas, on Aug. 18, 2013, at age 88.
Maxine Clery Dunaphant 46N of Orlando, Fla., on Feb. 22, 2012, at age 87. Maxine worked as an RN at Orlando Regional Medical Center and later became a private duty nurse. She took great joy in her career and became part of every family for whom she cared. She was employed by Granny Nannies until age 80.
Helen Patten Rainer 46N of Tifton, Ga., on June 7, 2013, at age 92. After graduating from high school in 1936, she helped Dr. R.E. Jones deliver all of the babies in Tift County. When Jones left for WWII, she assisted Dr. Ella Andrews, who inspired Helen to join the U.S. Cadet Nurse Corps. After graduating from Emory, Helen worked briefly at Bellevue Hospital in New York City. She then returned to Tifton, where she married Joel Price "Buddy" Rainer and raised their three children. She resumed working full time in 1970 and served for 20 years as an instructor in the Licensed Professional Nurse Program at the Moultrie Area Technical School. She kept up her nursing license until her death.
Alice Luta P. Kilgo 47N of Macclenny, Fla., on Nov. 11, 2012, at age 87. She died at home with family by her side. After graduating from the School of Nursing, she worked for nine years at Emory University Hospital before taking a break to raise her children. She later worked at Northeast Florida State Hospital until she retired. Luta was preceded in death by her husband of 54 years, Dr. Frank D. Kilgo. Survivors include six children, 10 grandchildren, and three great-grandchildren.
Jane Weeks 47N of Atlanta on April 18, 2013, a week before her 88th birthday. She worked as an RN at Emory University Hospital for many years. She provided private duty care to many Atlanta families and was fondly known as "Aunt Jane" to all. She fulfilled a dream of living in a log cabin in the mountains when she moved to Clayton, Ga., in 1980. She later returned to Atlanta to be near family.
Mary Jane Dixon Burke 48N of Atlanta died peacefully on Nov. 19, 2013, at age 86. She met her husband-to-be, Jim Burke, in Columbus, Ga. They married in 1957 and settled in Atlanta, where they raised three children. Mary Jane served for many years as a public health nurse with the DeKalb County Health Department. She tried to retire in the late 1980s but missed the work and returned part-time. She loved fishing and taught all of her children to fish. Mary Jane was preceded in death by her husband and her son, James. Survivors include a daughter, a son, and four grandchildren.
Carol Childress Mizell 49N of Smyrna, Ga., on Sept. 19, 2013, at age 85 following a long illness. After graduating from Emory, she married Robert C. Mizell Jr. She retired from nursing to raise their three children, but a nurses' strike in 1968 drove her back into the field. After the strike, she transferred to Emory University Hospital and finished her career as an oncology nurse. In recent years, she lived at Delmar Gardens and enjoyed playing bridge, eating chocolate ice cream, and the kindness of staff. Survivors include two daughters, a son, four grandchildren, and two great-grandchildren.
---
1950s
Carolyn Mease Paty 50N of Dunedin, Fla., on Nov. 3, 2013, in Candor, N.C. She was born in Dunedin and attended Florida State College for Women before studying at Emory. She served as director of Nursing Education at Mease Hospital in Dunedin from 1961 to 1967. Carolyn was predeceased by her husband, Dr. Philip Behenna Paty, son Robert, and daughter Elizabeth. Survivors include a daughter, a son, and two granddaughters.
Evelyn (Evie) Schain Plait 51N of Sarasota, Fla., on Jan. 8, 2014 at age 84. In 1953, she married Alan Plait, with whom she raised four children. They lived in Chicago and in Virginia, where she managed Winthrop Jewelers in the D.C. area. The Plaits were one of six founding member families of Congregation Olam Tikvah in Fairfax, Va. In 1995, Evie and her husband returned to her native Florida, where they helped establish the G. Wiz Science Museum in Sarasota. Survivors include three sons, a daughter, seven grandchildren, two great-grandchildren, and a niece.
Mary Harper Rael 52N, formerly of Seneca, S.C., on March 28, 2001.
Lt. Col. Emily Wright Browning 56MN, formerly of Henrico, Va., on Jan. 15, 2003.
Agatha Louise Murphy 56N, formerly of Evans, Ga., on Nov. 2, 2012.
Carolyn Corley Aurich 57N at her home in Clemson, S.C., on July 3, 2013, at age 78. Born in Greenwood, S.C., she attended Furman University for two years before coming to Emory. She was a longtime member of Clemson United Methodist Church. Survivors include her husband, Christoph Aurich, a son, two daughters, a sister and brother, and six grandchildren.
R. Kathleen Jewett 59N of Topsham, Maine, on May 21, 2013, at home with family by her side. She was 76. She entered the U.S. Navy Reserves in 1961 and met and married H. Furber Jewett Jr. After serving with the Navy, they moved to Maine in 1967. Kathleen worked in the public health nursing division of the state's Department of Human Services from 1971 until 1996, when she retired as public health director. She then volunteered with the Sky Hi facility, Mid Coast Hospital, the Hospice, Palliative Care Committee, and several other local health agencies. She is survived by three sons, two daughters, a brother, 15 grandchildren, and many great-grandchildren.
---
1960s
Nancy Raley McCarty 65N of Dallas, Ga., on Jan. 3, 2014, at age 71. An Atlanta native, McCarty was a graduate of Georgia Baptist Nursing School and Emory. Although she suffered from pain caused by lupus, Nancy spent her life in ministry to others and was devoted to her family. Survivors include her husband John, two daughters, and four grandchildren.
Lanita Ward Phillips 65N of Elberton, Ga., on April 10, 2013, at age 71. She spent the summer of 1963 in Elberton and met the local veterinarian, Edward Hickman Phillips. They married two years later after she graduated from Emory. Before they started a family, she worked at Elbert Memorial Hospital and as a school nurse. Lanita was active in the First United Methodist Church of Elberton. Survivors include her husband, three daughters, four grandchildren, and a brother and sister.
Mary Sturdivant Sisemore 66MN of Purvis, Miss., on Aug. 17, 2013, at age 76.
Barbara Edwards Harris 68MN of Longview, Texas, on June 1, 2013. She was 74. A native of Arkansas, she graduated from Baylor University before studying at Emory. In 1970, she married John Turner Harris in Nashville, Tenn., and they moved to Longview in 1978. Barbara worked as a traveling nurse in Arkansas, where she supervised physical rehabilitation on behalf of an insurance company. Later, as a nursing professor at Baylor and Vanderbilt universities, and locally at Kilgore College for 15 years, she challenged and inspired her students. Survivors include John, her husband of 42 years, a son and daughter, four grandchildren, and a brother.
Margaret M. Copple 69N of Danville, Ky., on April 30, 2013, at age 84.
A. Byrdell Martin 69MN of Evansville, Ind., on May 17, 2013, at age 81. She graduated from Deaconess School of Nursing and Indiana University before completing her master's degree at Emory. Byrdell began her nursing career at Deaconess Hospital and later served as a school nurse for the Evansville Vanderburgh School Corp. (EVSC). She retired as supervisor of EVSC nurses.
---
1970s
Dr. Marlene P. Mitchell Tibbs 71MN 82PhD, formerly of Atlanta and Columbus, Ga., on Nov. 20, 2013, at age 75 in Bowie, Md. In 1958, Marlene married Harold Mitchell (now deceased). They were married for 10 years and had one daughter, Lisa Yvette. In 1983, she married Oliver Tibbs (now deceased), and they were happily married for 25 years in Columbus. Marlene served as president of the Georgia Board of Nursing. She was a faculty member at Emory's School of Nursing and earned her PhD from the university's Institute of Liberal Arts. She later directed the BSN program at Columbus State University. Following Oliver's death, she moved to Bowie, Md., to be near her daughter, who survives her.
Vera Lou Elam 75MN of Scottdale, Ga., on Nov. 8, 2013. She was retired from Wesley Woods at Emory.
---
1980s
Marilyn Denardo Harrison 82MN of Plainville, N.H., on Jan. 18, 2013, at age 66. Formerly of Rutland, N.H., Marilyn graduated from Columbia University with a BSN before completing her MSN at Emory. She served as a U.S. Army nurse at various hospitals around the country. She retired as a major and continued her nursing career at Dartmouth-Hitchcock Medical Center in Hanover, N.H. Survivors include her husband, Douglas, two sons, three brothers, a sister, and three grandchildren.
Lynnda D. Transue 89MN 89MPH of Albany, Ore., on Oct. 9, 2001, at age 58. She worked in psychiatric and health services for the Oregon Department of Corrections. In Georgia, she served as a nurse in the alcohol, drug, and eating disorders unit of Decatur Hospital and as a nurse practitioner in the Grady Hospital Infectious Disease Clinic.
---
1990s
Karen Schriefer Keuter 95N of Snellville, Ga., suddenly at home on Aug. 31, 2013. She was 68. Born in Cincinnati, Ohio, she earned her BS in education at Miami University of Ohio. She was a retired elementary school teacher with more than 30 years of service in Ohio and Georgia. She completed her BSN at Emory and resumed teaching in Loganville, Ga. She was preceded in death by her son, Jeffrey. Survivors include two daughters, eight grandchildren, and her loyal companion, Rob Steffens.
Linda D. Southerd 97MN of Lawrenceville, Ga., on Aug. 4, 2013, at age 62. She was an application analyst at Emory University Hospital. She was also a nurse practitioner who devoted her life to caring for others. Survivors include her sister, Sue Carroll.
---
2000s
Amelia Basat Miller 00N of Kernersville, N.C., on Dec. 7, 2009. She was 37.
---
Honor Your Classmates
Tribute gifts are an extraordinary way to honor your classmates. You can designate a gift for any occasion—a birthday, anniversary, special achievement, or the passing of a loved one, colleague, or friend. To make a gift, please contact the Office of Development and Alumni Relations at 404-727-6917.